Books to put under a young reader's Christmas tree
Eddie Woo has teamed up with Dave Hartley to write a series of mysteries that involve a fun approach to math called Whodunnit, Eddie Woo? (Pan Macmillan). There are two so far and they're illustrated by Mitch Vane.
There's a new voice in middle-grade fantasy and it's a great ghostly adventure with an Australian flavor. A Girl Called Corpse (A&U) by Reece Carter is the first in a trilogy and will go down a treat for those with fantasy fans in their house.
Wylah the Koorie Warrior: Guardians (Albert Street) by Jordan Gould and illustrated by Richard Pritchard continues to capture new readers every day, and they're all eagerly awaiting book two. Think Wolf Girl, but an Indigenous warrior superhero.
Evie and Rhino (Walker) by Neridah McMullin and Astred Hicks is a delightful historical animal story inspired by an actual shipwreck off the coast of South Australia in 1891 with animals bound for the zoo. This is sure to appeal to Kate DiCamillo fans, like myself.
The Prometheus High (Penguin) series by Stuart Wilson managed two volumes this year, and is perfect for fantasy readers who might relish a sort of Percy Jackson with a splash of humor in its warped magic-high-school-on-a-ship setting.
There are plenty of new titles from established crowd pleasers. Cop and Robber (Puffin) is the new suspense thriller by Tristan Banks. What About Thao? (Puffin) is another funny and heartfelt school story from Oliver Phommavanh. A Reluctant Witch's Guide to Magic (Puffin) is a quirky and engaging read by the talented Shivaun Plozza. The Bookseller's Apprentice (Affirm) is the exciting prequel by Amelia Mellor, author of last year's hit The Grandest Bookshop In The World.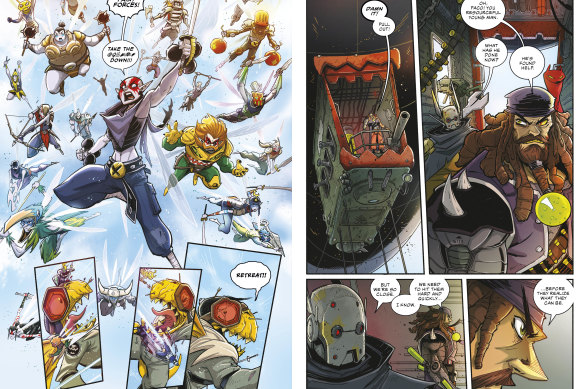 A Walk In The Dark (Hachette) by Jane Godwin follows some teens into the woods for what is a frightening and confronting overnight camp. In The Jammer (UQP), Nova Weetman expertly combines roller derby and one girl's struggle with grief. Emily Gale's The Goodbye Year (Text) tackles separation caused by lockdowns head on in a moving and uplifting story. The Raven's Song (A&U) sees two powerhouse authors, Zana Fraillon and Bren MacDibble, team up to deliver an alternate, dystopian timeline in a superbly crafted eco-adventure fiction. And the winner of the CBCA Younger Readers Book of the year this year, Shirley Marr, has a brand-new book called All Four Quarters of the Moon (Puffin).
These graphic novels will hit their mark with upper primary and high-school readers: The Neverlanders (Penguin) by Tom Taylor and Jon Sommariva sees quite a different take on the world of Peter Pan. Curse of the Chosen (NoBrow) by Alexis Deacon is one of my favorite fantasy series and it's now available in its entirety, collected in two volumes.
Netflix did wonders this year, taking Heartstopper (Hachette) by Alice Oseman, which was already an extremely popular graphic novel series, and making it an international phenomenon. The new book to collect is The Heartstopper Yearbook.
Loading
Young Adult (ages 12+)
The teens are well catered for with a number of great debuts. The Upwelling (Hachette) by Lystra Rose is an Indigenous take on dystopian fantasy. Dancing Barefoot (Text) by Alice Boyle is gorgeous contemporary realism that reads like a warm hug. Ann Liang's If You Could See The Sun (HarperCollins) is a genre-bending look at elite schools, poverty, dark secrets, and wanting what's best for you and your future.
We Who Hunt the Hollow (Hardie Grant) by Kate Murray and Only a Monster (A&U) by Vanessa Len have both stood out as being some of the best fantasy of the year, despite having been released in the first quarter of the year.
Plenty of authors prove that they've got what it takes to write their sophomore offerings. Take a Bow, Noah Mitchell (Penguin) by Tobias Madden explores the world of musical theater and online gaming in this queer romance filled with moral quandaries. Riannon Wilde hits her stride with Where You Left Us (UQP), a gothic mystery filled with small-time angst. Unnecessary Drama (Text) is proof that Nina Kenwood knows perfectly how to capture the funny and nerve-wracking process of an anxious mind. You'll recognize yourself and laugh and cringe along with Brooke.