Scientist shares background on NOAA's mission News
From deep space to the deep ocean, Richard Spinrad has a lot to keep track of. Spinrad spoke to a nearly full house at the Redlands Forum on Wednesday, Jan. 25, engaging the community with real life examples of using accessible data gathered by the National Oceanic and Atmospheric Administration (NOAA).
He posed the rhetorical question, "What do I want my great-grandchildren to be most proud of what we accomplished?" then described the process of collecting information, developing solutions and making decisions based on the information and data gathered.
He also spoke of how frequently the world uses some of the data NOAA has gathered, without realizing it. One of the most commonly used websites for up-to-the-minute weather information, an often-used website that pulls from information garnered is weather applications, sites multiple people use frequently. As for real world relevance, NOAA was able to secure a tighter window for natural disasters, allowing local and national services the option of sending help into affected areas sooner.
As NOAA collects data for use in a variety of fields, Spinrad uses the acronym SUSI-Q to explain what is being collected and how it is being used. He starts with SU for "seemingly unrelated" data, such as finding a correlation between heat pockets in suburban areas. Lots of open space and green will lower the temperature in an area, while paved lots tend to raise the heat, often within a few miles' difference.
SI stands for "sparse and incoherent" data. NOAA uses Argo flotation devices to collect information regarding salinity and water temperature in the oceans, surfacing every ten days.
With weather patterns changing, 4000 Argo devices, surfacing infrequently does not paint as clear a picture as Spinrad would like.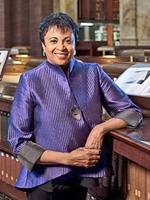 Carla Hayden, the 14th librarian of Congress, was scheduled to join Esri president Jack Dang…
Q is for "quizzical." Spinrad is quizzical about where else the data will take him and his team. Spinrad and his team have connected the dots for otherwise unconnected data, such as finding environmental DNA, where they can pinpoint what has gone through a particular "checkpoint" in the ocean.
Spinrad was a natural match to visit Esri and speak with Jack Dangermond and the Redlands community about the vitality of maps, how they shape our world, and what they can predict and connect.