Windsor theater group opens 2023 season with The Children
Article content
Comedy, drama, and moral quagmires — there's so much going on in The Children that the award-winning play's Windsor run will feature two versions with different cast members.
Article content
Local theater group Post Productions begins its 2023 season on Feb. 3 with The Children, winner of the UK Writer's Guild Award for Best Play, alternating between two distinct interpretations each night.
Article content
Co-producer Michael K. Potter said the idea for staging different versions of the play came up after actors auditioning for two of the main roles gave drastically different but equally compelling interpretations.
"It's the same story, the same director, the same set, but you change actors and things can be dramatically different," said Potter, also managing director of Post Productions.
The top two candidates for the roles of Hazel and Robin had very different interpretations of the characters and the story. So when we were making our decision, we couldn't decide which one we actually wanted to run with."
Article content
In The Children, written by Lucky Kirkwood, society has broken down because of climate change and a nuclear disaster.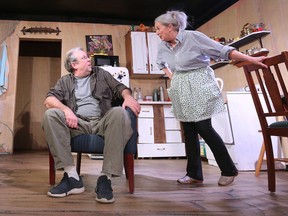 Retired nuclear scientists Hazel and Robin live just outside the "exclusion zone" that was created after a tsunami hit the local power plant and caused an ongoing, uncontrolled meltdown.
But they have accepted the world as it is and are trying to get on with their remaining years until Rose, an old colleague, appears at their door. The former friend arrives with a "frightening request forcing them to confront a moral and existential dilemma."
"As the story moves along it changes from this very intimate little tale about two retirees and their old friend from 40 years ago and it becomes a story about huge issues that confront people right now," said Potter. "Issues like climate change and clean energy, and who is responsible for what? Eventually it comes to the biggest question the player asks. Are some lives more valuable than others?"
Article content
To make things even more interesting, for the first time ever, Post Productions is offering two versions of the same play. Both adaptations are directed by Fay Lynn, also a co-producer.
Mary Grace Weir, who plays Rose, is the only actor to appear in both renditions. But in each portrayal, Rose is also different.
"Who you're talking to changes how you behave and how you speak," said Potter. "That's kind of what's going on in these two different versions. Mary Grace's Rose is a different kind of Rose because of the differences in the other characters. It creates a dynamic that is almost startling. It's like we're standing back and watching a human experiment going on before our eyes."
Post Productions, Windsor Feminist Theater form partnership

City's Arts, Culture and Heritage Fund now accepting applications

Windsor Symphony Orchestra, local schools partner for concert program
Audience members who saw one interpretation of the play will receive a $10 rebate for a ticket to the other version.
Article content
"We're hoping to encourage people to see both just so they can experience how different the story can be, and how differently you understand the story when you see both of the casts," said Potter.
The Children, presented in association with Waawiiyaatanong Feminist Theatre, will be at The Shadowbox Theater Feb. 3, 4, 9, 10, 11, 16, 17, and 18.
Doors open at 7:30 pm Show time is 8 pm Tickets are $25. They are available in advance at postproductionswindsor.ca. Tickets will also be available for cash at the door if seats are still available.